Goffin fights through a hold for 4-4, but feels Tiafoe's breath on his neck; Ostapenko now leads Maria 6-5.
We haven't left Center yet because there is some sort of celebration for the centenary of Center Court. On behalf of everyone at the GBG, mazal tov to the sacred turf.
Meanwhile, on Court 2, Tiafoe Goffin leads 4-3 on service, but is clearly the better player. However, both players will know that Goffin's solidity will be sufficient if he cannot maintain his current level.
Ostapenko is increasing the pressure here. Maria holds out for 4-4 but for 30, and she'll know she's second best here. But she will also know that her opponent can surrender her serve at any time in a haze of gigantic foundations missing the fiber-lined lines.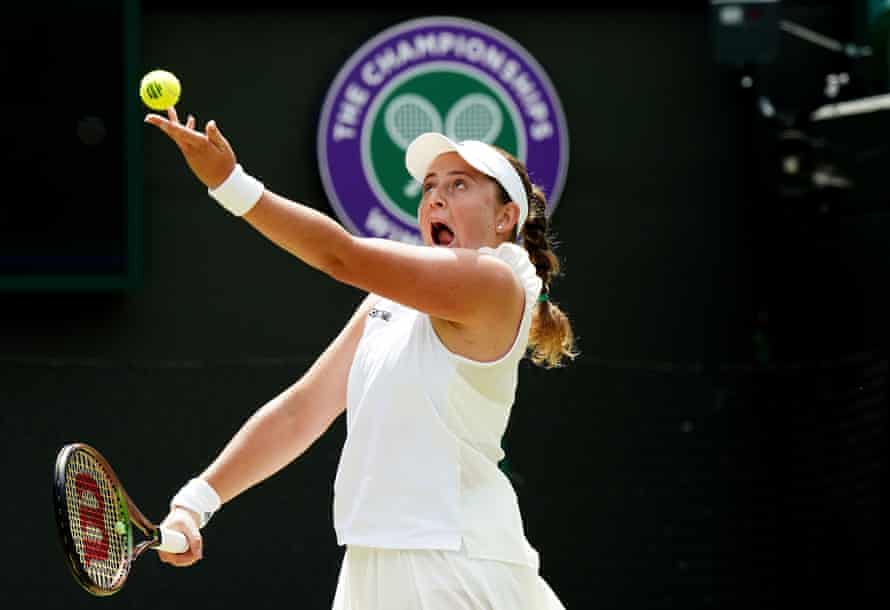 You could see in her last service game that Ostapenko – the tennis equivalent of cricket's Baz ball – got her attention, and she's just back to 15. If she wins here, she'll meet the winner of Watson v Niemeier, who would take you for a quarter. Those two start in about four minutes.
Oh I say! I remember a tennis coach buddy of mine who first saw Tiafoe and excitedly reported to say that he was one of the most phenomenal athletes he had ever seen play the game – he later said the same thing about Felix Auger-Aliassime. Anyway, he – not my size – just slipped chasing a drop, stabilized, chased the ball to the sidelines, threw a winner over the net, snapped back, ran off the field and shook hands with several audience members to underline his brilliance. 2-2!
Classic Ostapenkz, immediately broken by the world 103 trying to hit lines. I'm not sure if there is another player with a greater distance between their best and their worst. Maria leads 2-1.
At number 1 Court, Tatiana Maria has kept in the first game against Ostapenkz, while on 2nd, David Goffin Tiafoe broke the first time early and leads 2-1.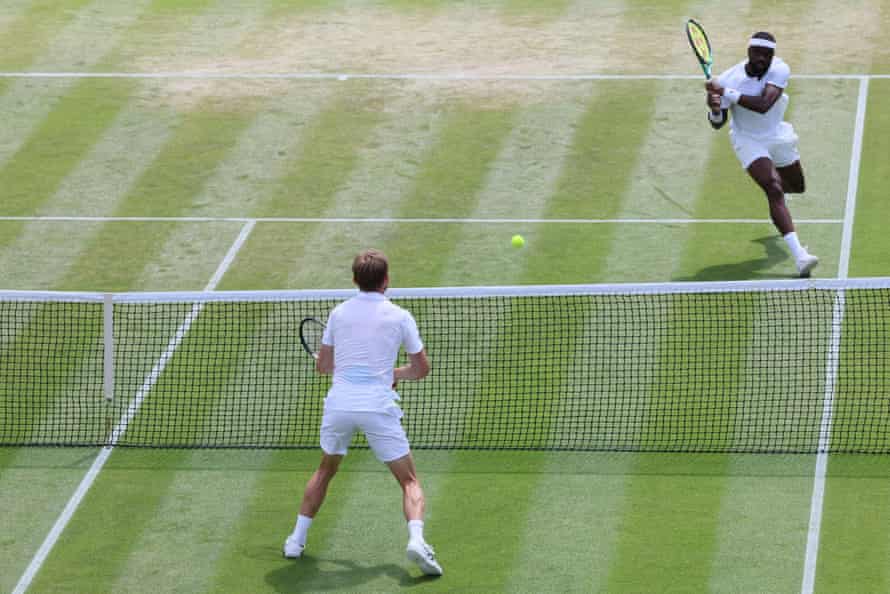 Thanks Alex and hello everyone. I'm going to agree with you: I thought I might be sitting here grumbling about the demise of Manic Monday, but several of my favorites are playing today – Jelena Ostapenko, Francis Tiafoe and Ons Jabeur – and on top of that we're Jannik Sinner v Carlos Getting Alcaraz, which is a potentially horrible clash of genius and personalities. Let's go!
And that's all mine – I leave you in the capable hands of Daniel Harris while David Goffin and Frances Tiafoe close the horns on Court 2.
Some news from yesterday: Rafa Nadal enters the fourth round with a win over Lorenzo Sonego:
A gem from our archive – Clive James at Wimbledon. Enjoying:
Marie Bouzkova beats Caroline Garcia 7-5, 6-2
Bouzkova 7-5, Garcia 6-2
The deciding game begins cautiously, with a point each, but then another big mistake comes from Garcia as she assertively advances to punch a volley straight into the net from a blank range. Bouzkova clears the next serve to earn match point, and her last serve is met by a return from Garcia fizzing low, hard… and right in the middle of the net. Game set and match Bouzkova!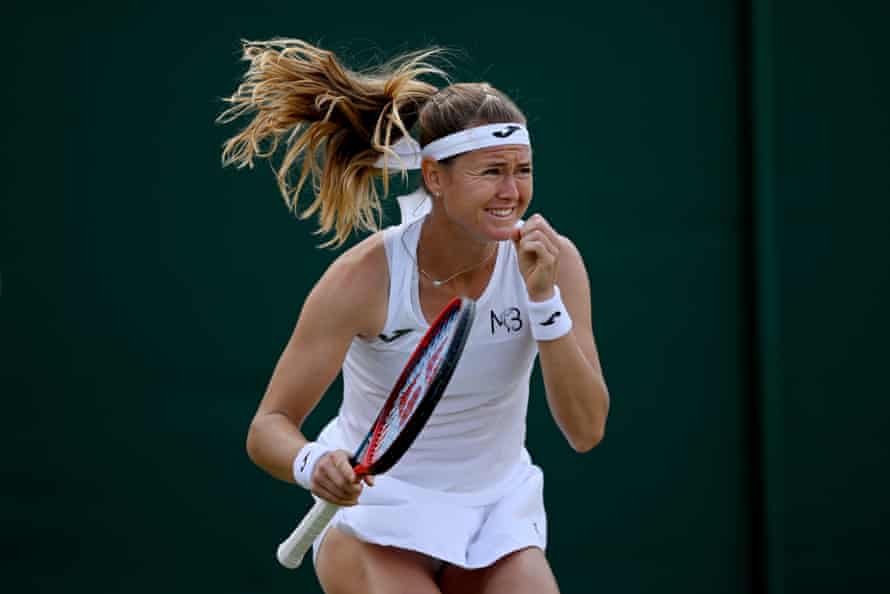 *Bouzkova 7-5, Garcia 5-2
Bouzkova breaks again! After holding her serve game with ease, the Czech spends the next game turning defense into offense, perfectly reading her opponent point after point. Finally, at the breaking point, Garcia wildly misplaces a simple volley on the net, putting it well next to the blame. Bouzkova is serving for a spot in her first grand slam quarterfinal.
*Bouzkova 7-5, Garcia 3-2
Both players each hold a service game with little fuss. But Bouzkova suddenly ups her game as Garcia resumes her serve and makes a perfect pass down the line to give herself a breakpoint, which she finishes with a powerful volley. That feels like a pivotal moment. The quarterfinals are now in sight.
Bouzkova 7-5, Garcia 1-1*
No breaks in the second yet, but Bouzkova sets the style in some razor-sharp rallies, the latter ending when Garcia's delicate drop shot hits the wrong side of the net.
*Bouzkova 7-5 Garcia
Bouzkova pulls Garcia to the net and lobs a brutal lob over her opponent – fantastic stuff – to lead 40-15. Garcia fights back with a powerful backhand return at the next point, but seconds later, she sends a simple enough shot wide of the mark. Bouzkova sets first, allowing himself a silent fist pump.
*Bouzkova 6-5 Garcia
Garcia wobbles badly in her service game. Bouzkova makes a rare breakthrough to the net to perfectly execute a tricky volley, then trumps a long rally to lead 40-0. Garcia saves the first break point with a dismissive cross-court forehand, the second with a nicely placed return and the third by sending her opponent back and forth at the baseline before swiping a vicious shot into the corner. But Bouzkova wins the next point and a double fault from Garcia gives her the game – all that fighting for nothing. Bouzkova serves for the set.
*Bouzkova 5-4 Garcia
Blam: In an instant, Garcia has won her next service game to love and is marching out of the field with her playing face firmly on her face. The Czech now serves to stay in the set.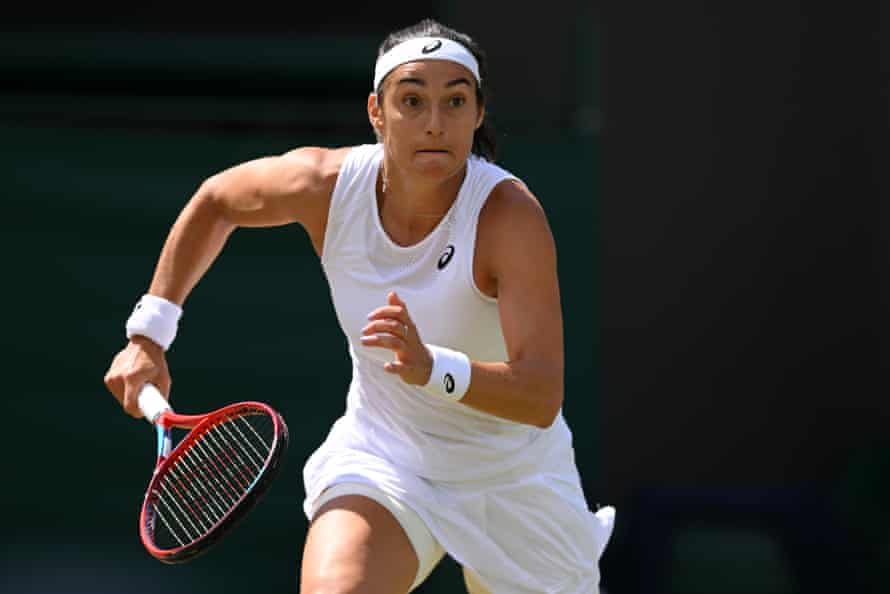 Bouzkova 4-4 Garcia*
Garcia breaks back! She chooses the stamp (if possible in tennis) with a perfect return to a very strong serve, Bouzkova on the wrong foot and a draw in a match in which she seems to be growing.
Wimbledon Diary of Yesterdaywith childcare, rodents and a very long sock:
*Bouzkova 4-3 Garcia
More from Garcia, convincingly claiming the next serve game, first by sending a brutal ace, then backing up and then watching an exhausted Bouzkova send a long pass across the line.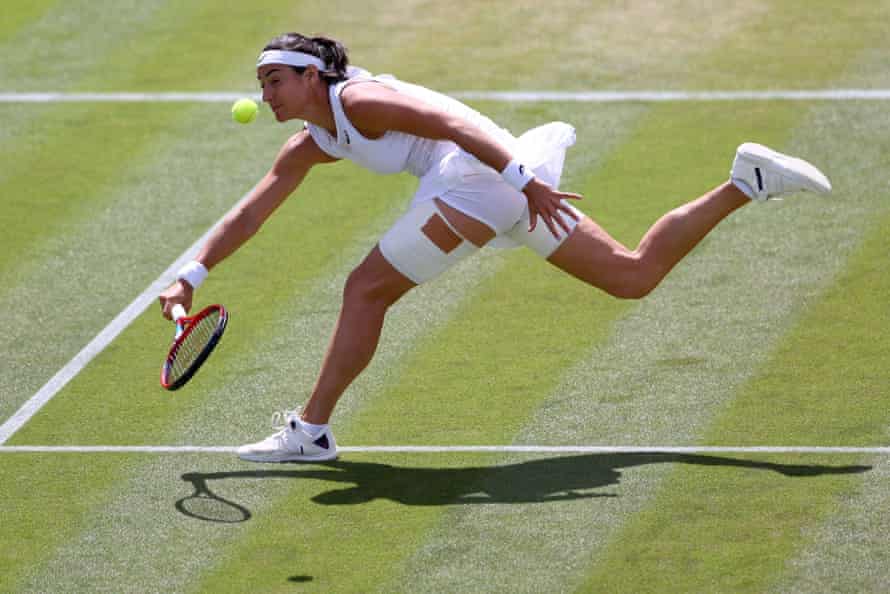 Garcia has kept both of her service games because she broke early but can't make a dent in Bouzkova's serve: the Czech sends her opponent back and forth along the baseline like a puppeteer, Garcia ends up exhausted with a thin backhand. 4-2
More from yesterday: Katie Boutler gets a tanning bed
In the meantimeleads Bouzkova 3-1 with a fierce backhand that skates across the baseline before Garcia can get close.
Bouzkova goes two games higher after a stunning cross-court pass is followed by another understrength return from Garcia – whose best show at Wimbledon reached the fourth round five years ago, where she narrowly lost to Joanna Konta.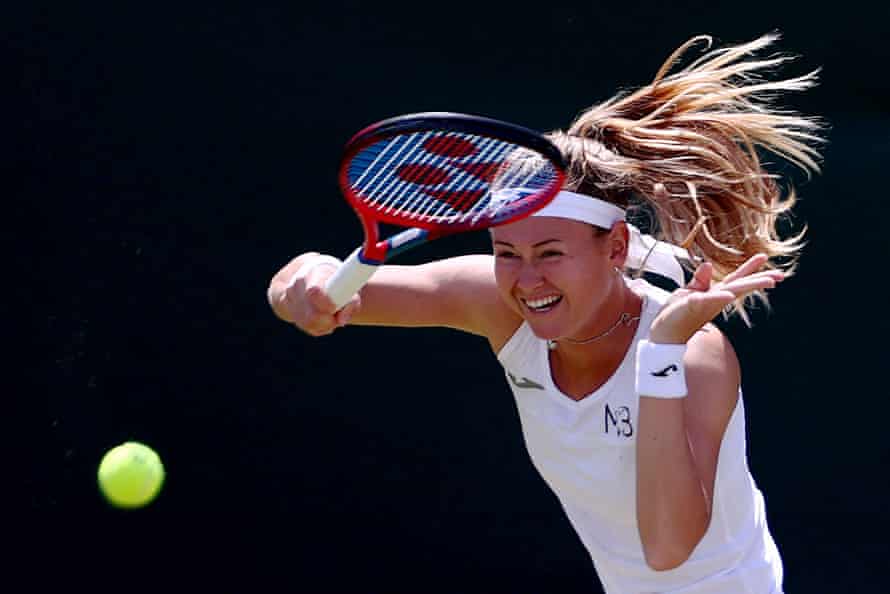 More fun from yesterday: Amanda Anisimova drinks in glory after career-high win against Coco Gauff at Center Court
Marie Bouzkova breaks in the opening game against Caroline Garcia, who throws a bad underhit volley straight into the net before descending to the sidelines to wake herself up.
… and our later report from the face-off between Kyrgios and Stefanos Tsitsipas: a moody play and A-entertainment, after which Tsitsipas called his triumphant opponent an "evil bully".
Get ready for the action of the day with some essential reading from yesterday. First up, The Guardian's internal clairvoyant Barney Ronay on Nick Kyrgios' perfectly crafted pantomime villainy:
Things are different at Wimbledon this year, with a full day of play on the usually empty Middle Sunday. The game can now start any time on the outdoor courts, with the action on Center and Field #1 starting at 1:30 PM (BST). Here is the order of play:
Center Court
Heather Watson v Jule Niemeier
(10) Jannik Sinner v Carlos Alcaraz (5)
(1) Novak Djokovic – Tim van Rijthoven
No 1 court
Tatyana Maria v Elena Ostapenko (12)
(9) Cameron Norrie v Tommy Paul (30)
(24) Elise Mertens v Ons Jabeur (3)
No 2 court
Marie Bouzkova in Caroline Garcia
David Goffin v Frances Tiafoe (23)
J Murray/V Williams v J O'Mara/A Barnett