Dimopoulos' attorney, Robinson Gill Lawyers' Jeremy King, declined to comment when approached by The age.
In April 2020, the Independent Broad-based Anti-Corruption Commission released the findings of its investigation into the incident, which found that the use of force was proportional even though Dimopoulos' human rights had been violated.
IBAC Commissioner Robert Redlich said officers of the elite Critical Incident Response Team at the time had "reasonable reasons" for raiding the property, despite it ultimately being the wrong location.
"The police involved reasonably believed that such force was necessary to arrest a person who was struggling with the police," Redlich said in April 2020.
Dimopoulos rejected the findings of the IBAC report and has long maintained that police did not identify themselves when they entered the building while he was asleep. He said he had fled because he feared he would be the victim of a gay bashing or a burglary.
The raid sparked deep unrest and anger in the LGBTQI community.
In an apparent effort to reassure the public, Victoria's Assistant Commissioner Luke Cornelius issued a public apology on behalf of the police almost immediately after the incident.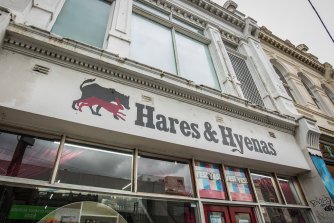 "It is very clear to us that the police have stuffed it," Cornelius said at a press conference.
Victoria Police also took the highly unusual step of paying Dimopoulos' medical expenses.
The decision to apologize ahead of a formal investigation into the incident caused significant rifts between regular officers and the Victoria Police Department.
Loading
Police Association secretary Wayne Gatt took a thinly veiled swipe at Cornelius after the IBAC report acquitted officers involved in the botched raid.
Gatt said the IBAC's findings were "an important outcome for our concerned members and some sober reading for those who prejudged them, who apologized early on their behalf, for those opportunists who chose to send an agenda because it was convenient."
Cornelius' rare mea culpa also occurred amid a series of other controversial violent incidents and scandals — many involving the Critical Incident Response Unit — in which police sharply defended their behavior or refused to comment prior to the completion of internal or independent to research.
the morninging Edition newsletter is our guide to the most important and interesting stories, analysis and insights of the day. Register here.