"I think the shrine is sacred and should not be used that way, not just for gay and LGBTQI issues, but for all issues," he said.
"It's one thing to light up City Hall or Flinders Street Station. I think it is a bigger step to illuminate the sanctuary."
Yvonne Sillett, the co-founder of the Discharged LGBTI Veterans' Association and featured in a video in the exhibit, said she was delighted by the rainbow colors that would be featured on the memorial and was devastated when she heard it wasn't going to happen.
Sillett told the Royal Commission for Defense and Veteran Suicide in February that military police questioned her about her sexuality in the military in the 1980s, which caused her to have suicidal thoughts and was honorably discharged the following year.
Loading
Australia banned gays and lesbians from serving in the armed forces until 1992, and Sillett said lighting the building was an acknowledgment of the battle.
"We had a hard time when we got in, we had a hard time when we got out. Definitely treat us all the same, but that hasn't happened to us," she said.
Sillett said some of the comments on social media after the radio segment were hurtful to LGBTQ veterans and serving members.
"These trolls probably won't even go to the exhibit, but they have to go … to see what we've been through."
The exhibition, Defending with pride: stories of LGBTQ+ service, is the first time an Australian war memorial has explored LGBTQ services in a special exhibit. It is the third in a series of exhibitions that examine individual identity in times of war.
Lee told 3AW on Wednesday that he wondered if the colors of pride were divisive.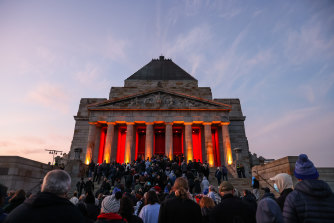 "The ADF has recognized gay, lesbian and bisexual members since 1992, so we're talking 30 years of recognition within the ADF, so I don't know if it's that divisive within the defense community," Lee said.
"It has been thought through very carefully … we felt this was important to acknowledge."
Lee said he would be surprised if the majority in Victoria did not support the decision to recognize diversity in service delivery.
"The horrors of war and the legacy of servitude do not discriminate and every member who has served in the ADF should be proud to be recognized," he said.
The Morning Edition newsletter is our guide to the most important and interesting stories, analysis and insights of the day. Register here.