In a statement, the Australian Institute of Architects said it would not be deterred from advocating design-oriented planning "for the benefit of the whole community rather than a select few".
National President Shannon Battisson said Sydney, like many cities, "must strike a balance between the need for growth and the need to preserve the layers of history that combine to make the city one of the most beautiful in the world".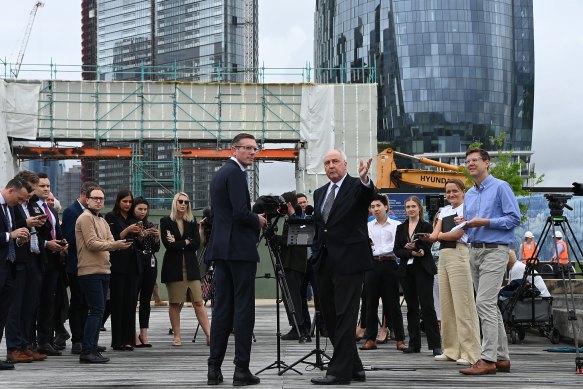 Keating and Perrottet also focused on Moore's long-running description of Sydney as a "city of villages" – a specter of Keating for many years. "She's for low-rise buildings, she's for sandal-wearing, muesli-munching, bicycling pedestrians," he said in 2011.
On Thursday he asked: "Is New York a village? No. Should Sydney be a village? No." Perrottet fully agreed. "Sydney is a metropolis and our people deserve the very best," he said.
Alex Greenwich, the independent Sydney member long associated with Moore, later weighed in on the New York comparison. "Sydney is more SoHo than Times Square, and that's a good thing," he said.
The Herald didn't come out unscathed either. "People have always celebrated those beautiful tall buildings that stand at the end of New York. Except, of course, The Sydney Morning Herald' said Keating. "It doesn't celebrate anything like this…talking about a twisted sense of news."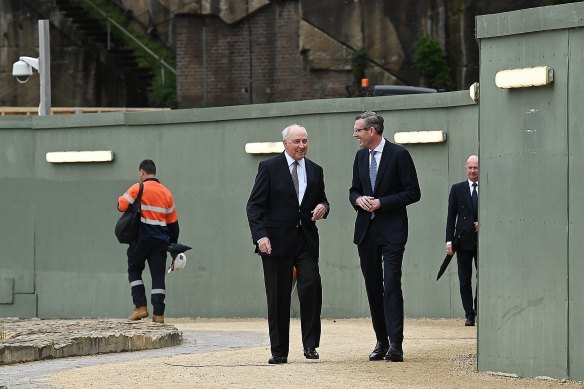 Keating chided Sydney's papers for his opposition to Jorn Utzon's Opera House design at the time, claiming, "If we had listened to The Sydney Morning Heraldwe would have a set of tram parking there."
And if the Herald Ten years ago, Keating claimed, Barangaroo would still be "a concrete wharf", referring to the Thalis design concept. To be fair, he released this correspondent from his criticism.
This week the Herald has published a series, Barangaroo: The Verdict, which examines what has worked on the project, what could be improved, and what is yet to come. The former prime minister traded fresh barbs with Thalis, who was quoted in one of those stories arguing that Nawi Cove's cove in Keating should not be considered open space.
Loading
"Well, it seems pretty open to me," Keating said, turning and gesturing toward the water. "[Thalis] said, "You can't walk on it." But it's not being built on, that's the most important thing."
Perrottet and Keating hinted at a possible repeat of their double act, while admitting their mutual distaste for the Cahill Expressway and suggesting asking Prime Minister Anthony Albanese for money to demolish it. [As prime minister in 1994, Keating unsuccessfully offered to pay John Fahey's NSW government to do so.]
"We're going to Albo," Perrottet said, grinning at Keating. "Maybe you have a better chance than me."
What Keating said
About architects: "There's a concept they don't talk about, it's called layering. LAYERED. These people said to me at the time, 'What the Maritime Services Board did to Sydney Harbor was shocking, but it is now part of our history and we have to take it as one man'."
On the Herald: "The Sydney Morning Herald opposed the Opera House all those years from the 1940s to the 1950s. They wanted to keep the tram sheds. They liked the fact that the Edwardian brick streetcar sheds could have adaptive reuse. The Cahill government said no."
About Clover Moore: "Had she and her deputy not insisted on encouraging Prime Minister, [Barry] O'Farrell to remove the hotel on the water, no space would have been given to Lend Lease for the casino. The casino is here because of Clover Moore and her former deputy sheriff. They can wriggle all they want on that particular hook, but I'm afraid they're stuck with it."
About alternative plans for Barangaroo: "You've got Philip Thalis' boring proposal, and ten or eleven years later we haven't heard the end of it. It was basically keeping the concrete wharf and grazing it. It was a piece of nonsense, that's why he was ignored."
On the Crown Tower: "If James Packer hadn't been personally committed to the quality of the building, it wouldn't have been there. His family, his sister and his mother knew they would be putting their assets in Crown towards this building that would otherwise not have been built commercially."
About Dominic Perrottet: "States are lucky. They get people with a civil conscience. And we have one with the Prime Minister."
On Barangaroo: "The largest number of visitors here [on the] weekend are people from the west of Sydney with children. We have not reserved this for rich people who own all the harbor land."
The Morning Edition newsletter is our guide to the most important and interesting stories, analysis and insights of the day. Register here.