The minister – who is seen as friendlier to developers than his predecessor Rob Stokes – gave his verdict on the proposal after an overwhelmingly critical report from the NSW Chief Government Architect, which he commissioned.
The architect found that the elevated building heights did not "follow with the important urban language established by the Millers Point Conservation Area", and that a 73-meter tower would impede public views to and from Observatory Hill, "a very important public place." in the history of Sydney".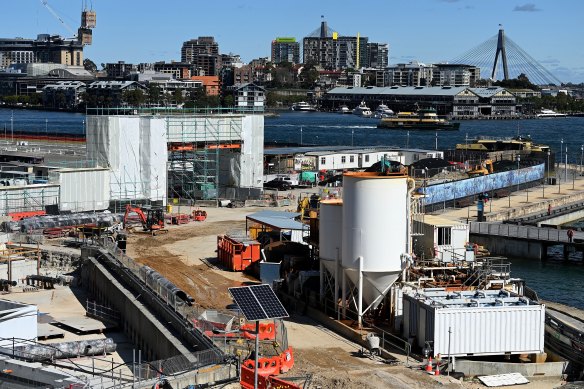 It would also overshadow the upcoming Harbor Park in the morning, contribute to an increase in wind turbulence in one corner of the site and potentially affect Sydney Observatory's activities, the architect said.
Roberts has not yet rejected the application and is awaiting a response from the proponent to the architect's objections. But his emphatic rejection of the proposal as it is, leaves NSW and Aqualand with little choice but to radically redesign or withdraw the plan.
"I do not believe, in its current form, that consent is in the best interest of the community, and I await the response of the proponent to the issues raised," Roberts told the newspaper. Herald. "Frankly, there isn't enough column space to cover my concerns about this proposal as it stands."
Loading
On Friday evening, Aqualand pointed out that its proposal included 116,000 square meters above ground level – well within the 150,000 square meter maximum set during the tender process under former Prime Minister Mike Baird when the Barangaroo metro station was announced.
In a statement, McCoy said Aqualand respected the minister's outspoken views and was aware of the sense of community related to various aspects of the proposal.
"The proposal for Central Barangaroo is in direct response to a brief instruction from the government, and the building envelope for the proposed scale of development was issued in 2019 by Infrastructure NSW following the resolution of the sightlines negotiations," McCoy said.
"We look forward to working with the government to find the most appropriate way to deliver an excellent outcome for Central Barangaroo."
Loading
The capstone of the massive urban renewal project, Central Barangaroo, has been besieged by difficulties and delays from the start. Originally a joint venture between Grocon, Aqualand and Scentr Group, Grocon left the project in September 2019, leaving Aqualand – a subsidiary of Chinese development company Shanghai Shenglong – to remain its main proponent.
The tower had been hotly contested by an activist group of Millers Point residents, Sydney Mayor Clover Moore, Sydney Independent MP Alex Greenwich, the Sydney Observatory, the NSW Heritage Council and a host of other stakeholders, although the tower was backed by developer lobbyists.
The Morning Edition newsletter is our guide to the most important and interesting stories, analysis and insights of the day. Register here.