Pro view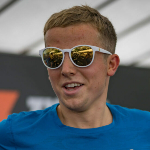 Dan Dixon
Dan Dixon is one of the next generation of British Elite triathletes looking to emulate the success the Brownlee brothers, Alex Yee and co. have delivered over the past decade and more. Only 20, he's already had many highlights – click here to read his previous columns.
With the news today that Daniel Dixon will be the athlete selected to replace the injured Jonny Brownlee on Team England's squad for the Birmingham 2022 Commonwealth Games, the TRI247 columnist tells us of his pride at the occasion.
Proud and surreal
It really is a very, very special feeling to be selected at the age of 20 to compete for Team England, the home country at a home game. It doesn't get more special than that.
I think when I come in later, it has all come so quickly that it all feels a bit unreal. Especially when I'm here in rural Northumberland, relatively far from many things. It just made me really proud.
I've been doing the sport for 11 years and have done an awful lot in that time but I chose to stay at home and try to make it my own way in the sport and do it my own way, my own way found through sports. It just shows that it paid off. There is still a lot of water to go under the bridge, as my father would say, but it is certainly a very big step in the right direction.
I'm really looking forward to competing in the Games and I think I'll have to take advantage of every part of the experience when I'm 20. I don't really know what to say – which is quite strange to me!
Exhausted for Johnny
I think the most important thing is I also want to say that I'm pretty gutted about Jonny. It would have been an absolute pleasure to join Jonny in the team and of course it's always fantastic to see him racing so I want to message him for a speedy recovery.
Overall, this opportunity is huge for me. I can't thank the people around me, the team – family, friends, practitioners, coaches – enough without them, so the biggest thanks go to them.
It's all a bit surreal – hopefully next week after undressing and everything else it will start to feel a bit more real. Huge, huge pride to be selected. I just can't wait.