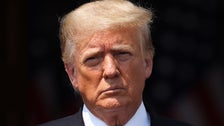 "Trump could kill 50 on our side and it wouldn't matter," Graham bluntly told journalists Susan Glasser and Peter Baker, telling them in "The Divider: Trump in the White House, 2017-2021," an advance of which was obtained by The Independent.
Graham reportedly offered the updated assessment in 2019 "less than 48 hours" after House Speaker Nancy Pelosi (D-Calif.) announced an impeachment inquiry into Trump's powerfully armed phone call to Ukrainian President Volodymyr Zelensky, according to the report. of the new book. In the appeal, Trump appeared to be blocking a Congress-approved US arms supply unless the new Ukrainian leader agreed to launch a baseless investigation into Trump's expected 2020 presidential rival, Joe Biden, and his son Hunter Biden.
Still, Graham wasn't completely naive about Trump. He also called the former president a "lying bastard" regarding the appeal to Ukraine, according to reports of the book, which is due out next week.
But almost in the same breath, Graham noted that Trump was "great fun to hang out with," Glasser and Baker write, according to the Independent's article.