As told to Aviva Patz
September 18, 2022, is National HIV/AIDS and Aging Day.
It's hard to believe that HIV could be a blessing, but for me it was.
That's because it gave me the chance to change my life.
After being sexually abused by my uncle and emotionally abused by my father, I ran away from home at the age of 13 to be placed in foster care, where I was again sexually abused. By the time I got HIV in 1991 at age 18, I was living on the streets of Miami, dating the leader of a violent street gang, and committing crimes, including armed robbery. I was full of anger and self-loathing.
Ironically, my HIV diagnosis came just as I was trying to change my life. I had left the gang when I was 17 and moved back in with my mother, even though she made it clear she didn't want me there because she thought I was a troublemaker. Finally, I told her I wanted to go to the Job Corps, a vocational school for troubled teens. I thought it was my chance to prove I was worth it.
I wasn't sick at all, but Job Corps did routine blood work on new students to test for pregnancy and other conditions. On TV you only saw gay white men from San Francisco with HIV. Never in my life did I think I would be told I was HIV positive.
The doctor who diagnosed me had no compassion. He just blurted out, "You have AIDS." It was horrible. He didn't give me a pamphlet or anything. But I didn't cry. I put my head down and thought: I will never get married, never have children. Back then, HIV was a death sentence.
I come from a good family, a conservative Catholic family from Colombia. And the Latinx community says, "Don't ask, don't tell," so my mom sat me down and said, "We can't tell anyone in the family or friends. They're ignorant. They'll discriminate." So I felt I should keep my HIV status a secret.
At the time, the only treatment available was a cancer drug called AZT. They told me at the clinic that I could get AZT, but that I had to sign a waiver saying it could damage my internal organs. I said, "No, I won't take that."
After years without treatment, my T cells dropped to 39 — the normal range is 500 to 1,400 per cubic millimeter of blood. I knew I could continue to die or start medical treatment.
I chose to live.
At Jackson Memorial Hospital in Miami, where I was being treated, I attended educational classes in special immunology. I went two hours a day and I learned so much. I was very talkative in these classes, and every time I spoke people listened. The administrators approached me and asked if I wanted to become a peer educator. They said, "You've already helped so many people."
I've been trained by the health department to mentor minorities – not just Latinx people, but the African American and LGBTQ communities and immigrants.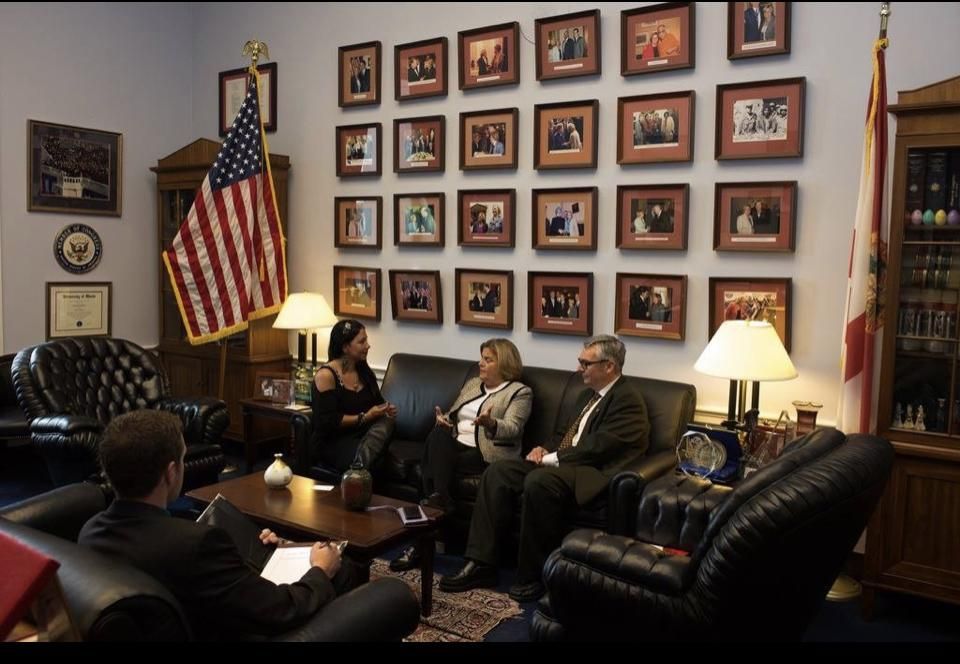 Maria Mejia speaks with members of Congress
It was never my intention to become an activist, but that's where I ended up. Today I help pass legislation for the HIV community. And I'm a global ambassador, community advisory board member, and A Girl Like Me blogger for The Well Project, a nonprofit that provides information, support, and resources to women and girls living with HIV/AIDS.
I've founded online support groups with 40,000 members, in English and Spanish. We have people from tribes in Africa to Patagonia in South America. I call myself Maria HIV with "HIV" as my middle name. I don't care – that's how I attract people.
I lead by example and fight stigma by humanizing the condition. I am a long-term survivor who not only survives, but also thrives. I am one of the most visible faces of HIV in the world and I show that people living with HIV can love, marry and have children. I give hope to the hopeless. And I don't regret getting HIV, because ironically it saved my life.
It has helped me grow in so many ways: I have learned to love and care for myself and to be more compassionate and spiritual. And, best of all, it made my purpose clear to me. I have met so many people who have been through a lot, and together we have saved so many lives. By helping others, I've found that I'm helping myself too.