Garena Free Fire Max's in-game Light Fest event is now live. The event starts today and runs through October 28. While not explicitly stated, the event is part of the game's Diwali celebrations, as evidenced by the themes and motifs used throughout the event. As is the case with most events, players have the chance to earn a large number of goodies as part of the event, some of which are given away to players who simply log in.
Garena Free Fire Max: Light Fest
The premise of the event is that the Kalahari map is shrouded in a veil of black smoke and players must "gather the light" to put things back to how they should be. It's a pretty silly premise if we're honest, but hey, there's been crazier premise in gaming.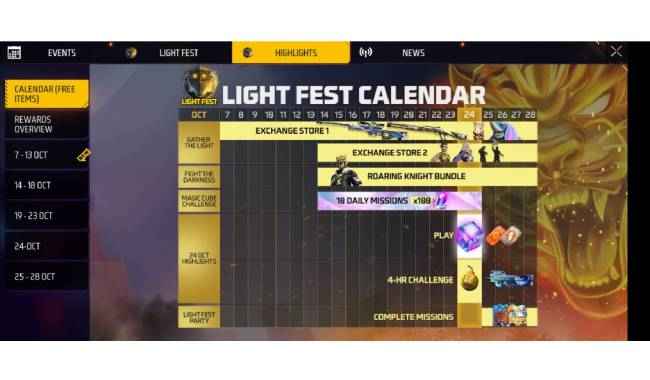 Players can collect the light by completing set challenges. These collected lights can then be exchanged for rewards. This includes one of four of the following sets of items, Legendary Gun Skins, Pets, Costume Bundles, and Emotes. The collected light can also be used to purchase items individually.
Players can also earn some free items by simply logging in. This includes pets, backpacks, loot boxes and more. For example, players who log in for five days can get their hands on the Golden Eagle backpack. After October 14, players will have access to even more content. This includes the Roaring Knight Bundle and the Exchange Store 2. October 14 also marks the start of the Magic Cube Challenge, which will reward players with up to x100 Magic Cube fragments.