The house in Albert Park was one of 742 Melbourne properties up for auction on Saturday. By evening, Domain Group registered a preliminary approval rate of 60.7 percent from 596 reported results, while 65 auctions were withdrawn. Withdrawn auctions are counted as unsold properties when calculating the clearance rate.
Agents say there has been a marked shift in the market over the past week, following the fifth consecutive hike in the cash interest rate, which now stands at 2.35 percent.
In Carlton North, a three-bedroom house at 654-656 Park Street put up a bid for $1.7 million after no one raised their hand to bid.
The house was advertised with a price range of $1.75 million to $1.85 million and is now for sale for $1.84 million.
"Last week was very different," said Nelson Alexander Carlton director and auctioneer Nicholas West. "What usually happens is, there's a rate hike and people get paralyzed for a week."
He said buyers were still figuring out how much they could borrow and offer at auction after the surge.
"Our market is very reactionary because people need time to process interest rate hikes… and there is no doubt that the market is price sensitive."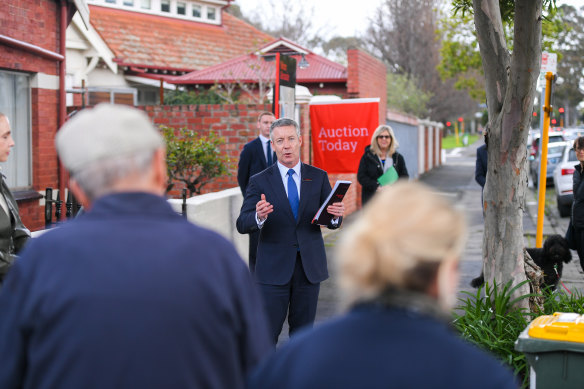 Nearby, a two-bedroom, one-fronted Victorian terrace at 468 Station Street, Carlton North, was sold under the hammer for $1.365 million to a professional couple.
They offered two other couples for the house that needed some renovation.
Bidding began on a $1.15 million bid from the seller with steady bidding with the home being marketed for $1.22 million.
Nelson Alexander Carlton partner Janine Ballantyne said the market had been "patchy" over the second weekend of spring.
"It's very price sensitive," she said. "Some things are still going well."
In Malvern East, a three-bedroom house at 11 Gabriel Avenue was sold for $1,315 million.
Three bidders competed for the 642-square-foot block that the buyers plan to rebuild.
Jellis Craig Hawthorn seller David Macmillan said the property had been an investment, which the sellers had owned for more than a decade.
"It was a really good result, pretty much on the money for the $1.2 million to $1.3 million rates," Macmillan said.
In Greensborough, a young family bought a three-bedroom house at 15 Amiet Street for $965,000.
Morrison Kleeman director Craig Parker said they outbid a smaller couple and another young family for the house.
Although the market had cooled, Parker found buyers had adjusted to rising interest rates, noting that real estate competition was still stiff.
"The market will be reliant on inventory levels in the coming months and if a lot of inventory comes to market it will slow down," he said.
In Middle Park, a three-bedroom home at 269 Richardson Street, it made a $2.52 million bid from the only active bidder, before selling for $2.75 million after a short negotiation. The result was above the price guide of $2.4 million to $2.6 million.
Jellis Craig Port Phillip director Simon Gowling said most suppliers had adjusted their expectations to the cooler demand from buyers and were now more willing to meet the market.
"They are much more realistic and realize that they will not reach the prices from the end of last year," Gowling said.