Hillary Clinton told talk show host Seth Meyers she wouldn't call out "lock him up" over former President Donald Trump in regards to any investigation into his actions.
Clinton appeared on Meyers' show, "Late Night with Seth Meyers," on September 15, accompanied by her daughter Chelsea. The trio discussed a variety of topics ranging from the recent overthrow of Roe v. Wade Clinton's take on Trump's investigations and Chelsea Clinton's new children's book, "Welcome To The Big Kids Club".
Clinton referred to Trump supporters chanting "lock her up" at a recent rally in Pennsylvania when Trump called her "angry Hillary Clinton" and claimed she had set up a secret email server to run the "pay-to-play schemes" from Clinton. According to her interview with Meyers, Clinton will not exhibit the same behavior.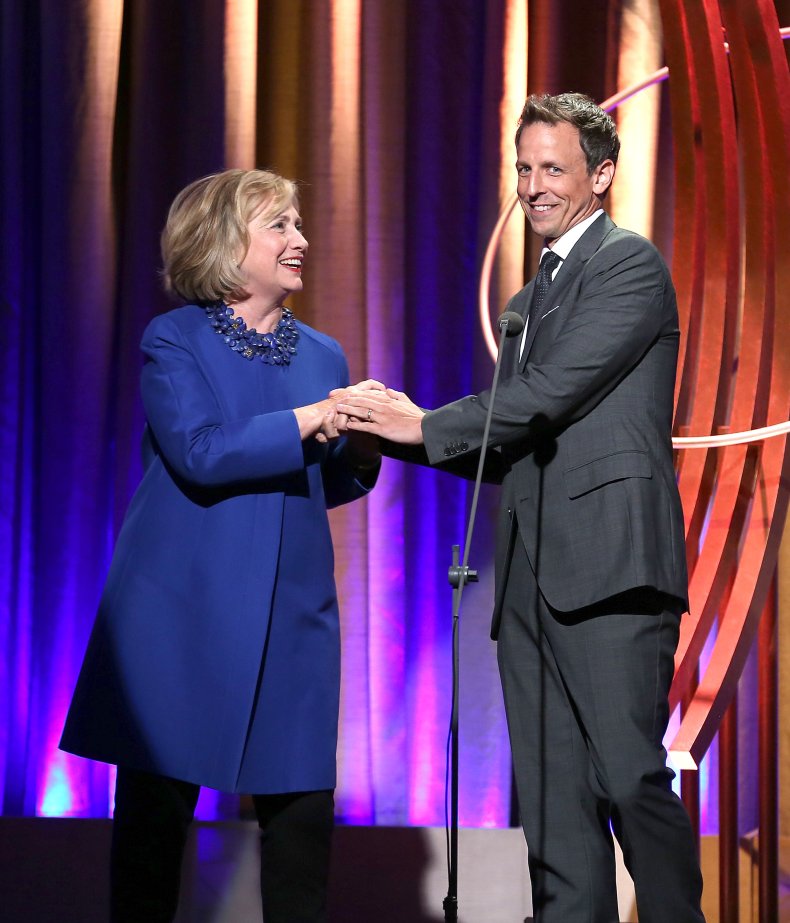 "Let the investigation continue and let's find the facts," she said. "Unlike those guys, I'm not saying 'lock him up'. I'm saying let's just find the facts and follow the evidence wherever it goes."
Her words were greeted with cheers and applause from the audience. Clinton stressed that she had no classified documents when she used a personal email account while she was Secretary of State under the Obama administration. Trump attacked Clinton several times over the subject of emails when the two faced each other in the 2016 presidential election. After an investigation into the emails, Clinton was not charged. Clinton has previously said she would not jump to conclusions about Trump's investigations.
"You know, you can't make this up," Clinton told Meyers. "I mean the lies they told, the heated rhetoric, 'lock her up', all that nonsense, it was completely political, separated from reality. Now we have a serious problem, because if you just read, and I don't do any having inside information, what is found, nuclear information about an ally or an adversary, unbelievably top secret."
While serving as Secretary of State, Clinton said, if she had to sign or view top-secret documents, a military officer would have cuffed the briefcase containing top-secret documents to his wrist.
"To show me something so secret, he literally had to have it tied to his hand, so it was locked," Clinton said. "That's what some of those folders say on the outside was the kind of information that was in them [in documents found at Mar-a-Lago]."
"I don't care what political party you are, but come on, stop the hypocrisy," Clinton added. "This is a threat to our national security that someone would actually have in his country club storage room, his desk, his bedroom, top secret information. And you have to ask yourself why he was going to do it? Who was he giving it to?"
In response to Clinton's comments, Meyers joked, "I think if he realizes he's done something wrong, he'll probably turn himself in and say 'lock me up'. If I know the man, he'll take responsibility."
About 60,000 people have watched the video on Meyers' YouTube channel since it was uploaded early this morning.