Silverstone, so often the setting for great drama, presented the ecstasy of a never-to-be-forgotten moment for Carlos Sainz as he took his first pole. But beyond that, it was haunting for Lewis Hamilton, who admitted he was devastated at not being able to deliver more in front of an avid home crowd at the British Grand Prix. Those fans with a suitably theatrical bloom gave Max Verstappen, who finished second, a boo when he got out of his car.
For Sainz, taking the first pole of his Formula 1 career after 151 encounters with an excellent lap at Silverstone in extremely difficult conditions was a moment to savor. "It's obviously very special, especially to do it in the rain at Silverstone," he said. "My confidence is high, I can hold the lead and run my own race. I've led a few races in F1 and it felt great, the goal is to do it again. †
His Ferrari team-mate Charles Leclerc was third and Sergio Perez fourth for Red Bull, but Mercedes' hoped-for revival continues to manifest itself, with their car certainly improving but still six-tenths off pole. Lewis Hamilton was fifth and his teammate George Russell eighth.
Hamilton has a record eight wins here and has made the old airport his own, but it was a heavy blow to this season's unruly Mercedes. The team had brought a slew of upgrades here and the British driver had been desperately waiting to deliver it.
"I'm really a little gutted because we have such an amazing audience here," he said. "I pushed so hard to get on the front row and fight for pole position. I think we could have finished in the top three. I was aiming for second, finishing fifth will make it difficult tomorrow, but i know i have this great audience with me so i will try to carry on.if i can hold them somehow then maybe i can progress somehow.I will be aggressive tomorrow. "
Verstappen had given everything, but couldn't quite match Sainz, falling seven hundredths down on his last lap. With the partisan crowd still hurting from the controversial decision that cost Hamilton his eighth title in Abu Dhabi last season, Verstappen got a chorus of booing.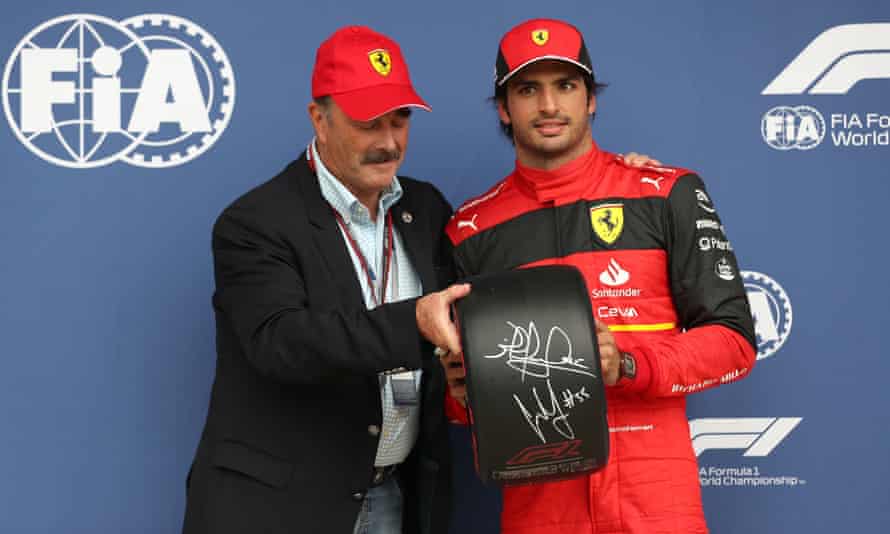 "It was a little disappointing," he said. "If they want to captivate, they will. I'm happy to be here, it's a great atmosphere in general, they all have their own opinion, I don't care."
Hamilton, on the receiving end of the booing from Verstappen fans last season, came in on his rival's defense. "I think we're better than that," he said. "I'd say we don't have to do the booing.
"We have such great fans, our sports fans feel emotions up and down, but I absolutely do not agree with the booing. I don't think we need to do that. I think we should be here to push everyone. But I really appreciate the support I have here. Maybe some of them are still feeling the pain of last year."
Heavy rain had started just before qualifying and intensified as the session progressed, but Sainz delivered a superlative under the looming gray clouds at Silverstone. As the track was still very wet, but the rain subsided just before the final shootout, the drivers opened up by doing repeated laps and striving to find the optimal conditions as the times got lower.
Verstappen seemed to have the early advantage, pushing so hard on an opening lap that he did a full 360 spin in the final sector, keeping the car on track for what remained a fine sighting run. He followed it up with repeated faster laps as he and Leclerc swapped the lead in a close fight. The Dutchman seemed only ahead of Sainz to time his best lap of the day down to the last detail. His last run was immense, with a time of 1 minute and 40.983 seconds. Verstappen roared behind him and gave everything, but couldn't match him.
This first pole was a well deserved result for the Spaniard and he was understandably delighted to finally break his duck in the most challenging of conditions on this mighty circuit.
However, Verstappen is 46 points ahead of Pérez in the championship and 49 points ahead of Leclerc. Ferrari must consider how best to balance Sainz's ambition for his first win with Leclerc's need to reclaim points for Verstappen. Leclerc said he would be happy to support his team-mate's bid for victory, but Sainz has a 73-point lead and can still be expected to give way if Ferrari gives the order.
Lando Norris was sixth for McLaren and Fernando Alonso seventh for Alpine. Williams' Nicholas Latifi did very well to make Q3 for the first time in his career with a strong run on the wet and finished 10th. Guanyu Zhou finished ninth for Alfa Romeo.
Pierre Gasly and Yuki Tsunoda finished 11th and 13th ahead of AlphaTauri. Valtteri Bottas finished 12th in the Alfa Romeo, with Daniel Ricciardo 14th for McLaren and Esteban Ocon 15th for Alpine.
The Aston Martins of Sebastian Vettel and Lance Stroll went out in 18th and 20th place. Alex Albon was 16th ahead of Williams and Kevin Magnussen and Mick Schumacher finished 17th and 19th.